How to Obtain the Weld Quality You Need
Partnering with a skilled and experienced cleanroom welding contractor, you can ensure consistent and high-quality parts and components for your project, avoiding contamination, project losses, and safety risks.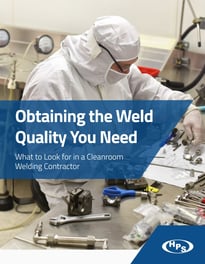 To help match your project with a quality contractor, we created the eBook, What to Look for in a Cleanroom Welding Contractor. Learn the criteria your cleanroom projects should adhere to from start to finish, along with the following information:
• Differences in class 100 and class 1000 cleanroom levels
• The benefits of a permanent cleanroom
• Processes and welding experience required from your contractor
To download the eBook, fill out the form on this page.