Learn About the Benefits of Mandrel Bending
Choosing the best process for welding or bending your pipe and tube
brings several considerations into play. At High Purity Systems, we understand the importance of weld quality for your projects. We also understand the costs associated with quality.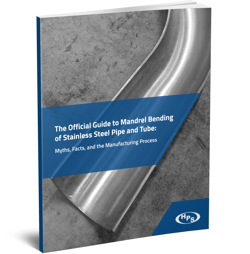 For that reason, we set out to debunk the myths of mandrel bending in our latest eBook, The Official Guide to Mandrel Bending of Stainless Steel Pipe and Tube. Inside, we uncover essential information to help you learn more about mandrel bending, including:
• Cost-Effectiveness
• Myths vs. Facts of Bends
• HPS' Manufacturing Process
Fill out the form on this page to download our eBook and learn if mandrel bending might save you money on your next project!